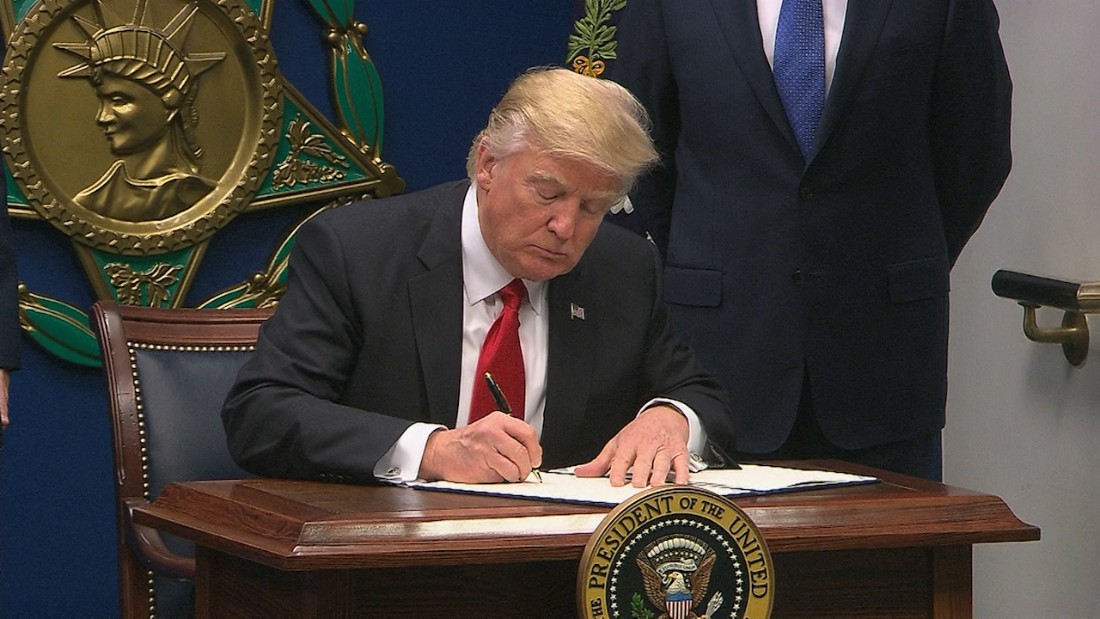 (CNN)President Donald Trump begins his 11th day in office shrouded in crisis, roundly criticized for a chaotic unveiling of immigration measures and under new scrutiny after he fired the nation's top law enforcement officer who refused to enforce them.
On an extraordinary night of political drama Monday, the
President dismissed acting attorney general Sally Yates
by letter after she instructed the Justice Department not to defend Trump's immigration order, which bans travelers from seven Muslim-majority nations and temporarily halts refugee arrivals.
Yates was a remnant of the Obama administration, only in office until the Senate confirms Jeff Sessions as the next attorney general. But her dismissal reflected the sudden political forces unleashed in Washington in the early days of the Trump administration as the President seeks to impose his authority on the federal government and shows little patience for those who would block him from implementing core campaign pledges.
The dramatic move came soon after CNN reported Yates told Justice Department lawyers not to make legal arguments defending Trump's executive order on immigration and refugees.
"(Yates) has betrayed the Department of Justice," the White House statement said.
The White House also made a case that the sudden change in policy was necessary to keep Americans safe from terrorism.
"We had 109 people that were temporarily detained. They were temporarily detained to make sure that the safety of the other 324 million Americans was put first. I don't see how that's a big problem," Spicer said.
Trump, meanwhile, said in a tweet that it would have been foolhardy to have announced his policy in advance, as it would tipped off terrorists.
"If the ban were announced with a one week notice, the "bad" would rush into our country during that week. A lot of bad 'dudes' out there!" Trump tweeted Monday.
Though advancing a hardball national security argument, Spicer appeared to indicate on Monday there was no specific intelligence suggesting an attack was imminent from nationals of any of the seven listed nations.
"I think what we're trying to say is you don't know when the next threat is coming," Spicer said.
Terrorism experts have pointed out, however, that none of the terror attacks on US soil since 9/11 emanated from any of the seven nations targeted by Trump.
Administrative confusion
The sense of administrative confusion in the government also undermines White House claims that everything went smoothly. Minutes before Trump signed the order in the Oval Office on Friday, his counsellor Kellyanne Conway told reporters that the immigration measure would not be issued that day. And in the hours after its release the White House struggled to explain exactly what it meant and which nations it would impact.
Meanwhile, it seems instructions for how to enforce the new rules did not reach the officials on the front line at America's airports sparking delays and confusion.
"At the operator level, there was confusion and that needed to be flushed out and perhaps still needs to be flushed out," said James Norton, a Deputy Assistant Secretary for Legislative Affairs Department of Homeland Security during the Bush administration.
America's borders are policed by a diverse collection of officials from Customs, Immigration and Citizenship agencies and not all were clear what the new rules entailed.
That may explain uncertainty over whether green card holders were affected.
US allies were still puzzled Monday with the implications of the ruling. Britain said UK dual nationals would not be stopped from entering the US. Germany was not so sure.
There was also intense frustration on Capitol Hill, where GOP aides rejected the rationale that they were kept in the dark for national security reasons.
"If that's their approach going forward in terms of engaging the Hill on national security issues, then they're going to find out that the results are more than just a weekend of bad press," said one aide who asked not to speak for attribution.
Spicer denied that the White House had left its congressional allies and government agencies in the dark.
"Everybody was kept in the loop at the level necessary to make sure that we rolled it out properly," he said.
But Schweitzer, who has piloted the Senate confirmation process of 20 presidential nominees, warned that if the White House did not up its managerial game, it would be offering an opening to its opponents.
"Trump's executive order was poorly written and implemented, and has generated so much negative press that it's reinforcing the Left's image of the Trump White House as xenophobic, incompetent hardliners," he said.
Read more: http://www.cnn.com/2017/01/31/politics/donald-trump-immigration-white-house/index.html