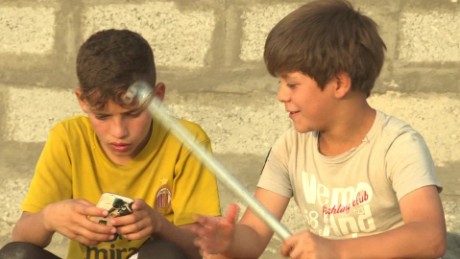 Abu Ghraib, Iraq (CNN)There was something strange in their eyes: a flat, empty, distant stare. The boys, especially the ones in their early teens, look at you, but don't see you.
I've been in plenty of refugee and IDP (internally displaced person) camps, where children thrill, become downright giddy, at the presence of a camera crew. They laugh, they chatter, they run around you, they jump and wave and goof off in front of the camera. In this dusty camp at the edge of Abu Ghraib, a Baghdad suburb, many of the older children seemed lethargic, almost indifferent to our presence.
They are children from the approximately 350 families staying in the Ahal Camp, housed in rows of cement-block single-room dwellings or in plastic tents with metal frames. The wind is hot, it's dusty, there's little in the way of basic amenities beyond toilets, electricity and water drawn from tanks. Some have been here for months, others recently arrived from the towns and villages around Falluja.
Read more: http://www.cnn.com/2016/06/06/world/falluja-children/index.html