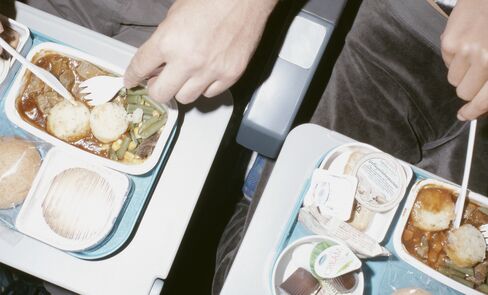 If you think all airline food tastes bad, its not your imagination. But dont just blame the chef. Serving flavorful food at high altitude poses a unique challenge.
The problem is that we taste poorly on airplanes, says Bianca Bosker, author of Cork Dork, an upcoming book covering the science of the senses. Research has shown that the dryness, deafeningly loud rumble, and air pressure of cabins all effectively dull our senses so that food ends up tasting much blander than it would back on the ground.
But a bit of knowledgeand preparationcan go a long way toward getting you the best possible in-flight meal, even if youre stuck in steerage.
Try to move on up. Sitting in the very front of the plane (meaning business and first-class cabins) will assure your access to the very best grub, but even economy passengers can benefit from being nestled near the nose. Flight attendants tend to take passenger orders from front to back, says Nikos Loukas, founder of Inflight Feed, a website that chronicles the world of inflight food. By the time flight attendants reach the tail, passengers may be left with whichever (often least desirable) meal options are still available. The front of the cabin will also usually get served food first.
And while conventional wisdomor at least urban legendhas long been that ordering a special meal option (think: kosher or vegetarian) will get you better food, Loukas says this isnt always the case. Now you can ask for something better. For around $15 to $30, many airlines (Loukas cites Air France, Fly Niki, and Thomas Cook Airlines Scandinavia as examples) will serve economy passengers upgraded meal options. You just have to think ahead. The upgraded meals must be preordered online.
If your flight doesnt offer upgraded meals (or you forgot to preorder one), it cant hurt to ask for something better. Ive heard of stories of flight attendants running to business class to get a meal for someone in economy, Loukas says. Many times I've asked for an extra snack or meal, and if it's available, the crew will happily give it to you. You just have to ask.
Some meals tend to taste better at altitude than others. Meats served in sauce are a safe bet," says Lee Abbamonte, a travel blogger who flies 200,000-plus miles per year. "Things like a filet with a glaze sauce usually hold [up] well in-air. Loukas recommends curries, since their strong flavors help overcome our muted sense of taste.
The biggest mistake travelers make is to eat everything in front of them in a cramped setting where going for a post-meal walk simply isnt an option. Especially if youre in a premium cabin, Ive seen people who want to try everything, and they end up eating way too much food, Loukas says.
The easiest way to ensure you have decent food on a flight is to bring your own food. Just dont forget how it might affect folks next to you. Please dont bring smelly fast food like McDonalds onto a flight," Abbamonte says. Remember, you have to live with these people for hours in very tight quarters. Anything you can do to keep them on your side is a good idea.
Read more: http://www.bloomberg.com//news/articles/2016-10-18/how-to-eat-well-at-30-000-feet