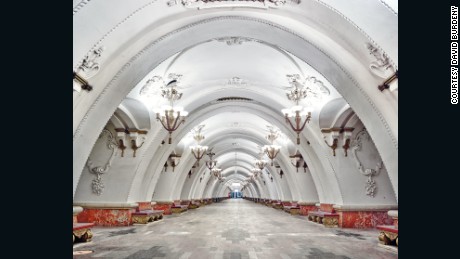 (CNN)For many commuters around the world, a subway journey means speeding from one drab station to the next, surrounded by too many uncomfortable, impatient bodies. But on the Moscow Metro, taking the subway is akin to walking through a national heritage site.
Depending on where you get off, you'll receive a crash course in such diverse architectural movements as Baroque, Art Deco or Futurism, and face stained glass windows, marble columns, crystal chandeliers, gilded mosaics and painted scenes from Russian history.
"They're just these extraordinarily beautiful places that are unlike any metro station I'd ever seen," says Vancouver-based photographer David Burdeny.
Palaces for the people
In 2014, Burdeny traveled to Russia to produce the first formal study of these architectural wonders for his series
Russia: A Bright Future
. In all, he photographed 20 of the most beautiful stations.
Read more: http://www.cnn.com/2016/03/21/architecture/moscow-metro-stations-david-burdeny/index.html